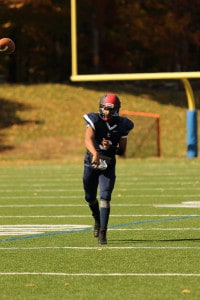 The Heart of a Giant program, sponsored by USA Football and the Hospital for Special Surgery, recognizes and rewards Tri-State area (NY, NJ, CT) high school football players who demonstrate unparalleled work ethic and passion for the game. Our own Kennedy Junior QB David Keogh has been selected as a week 1 nominee and is competing against 9 other players for on-line votes and the opportunity to go own to the next level of the competition. The grand prize winner is recognized on the field at a home Giants game and receives $5,000 in sports equipment for his high school.
We need everyone to vote for David as often as you can through November 11th. Share this link with others willing to vote.
Click here, select Week 1 and scroll to the bottom for David's picture to submit your vote.
Vote 1 time every day on each device (e.g., phone, ipad, laptop, etc.)