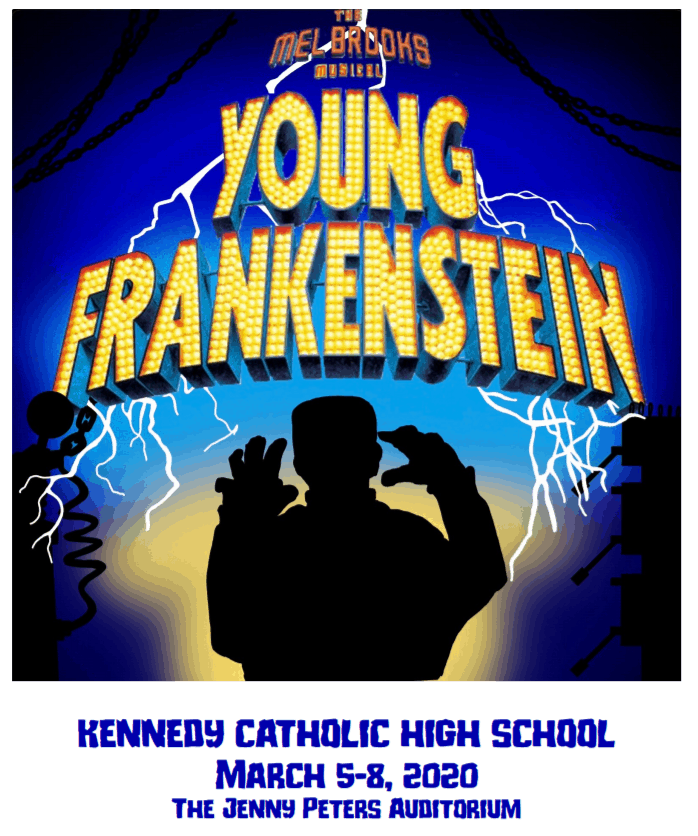 The annual Spring Musical is fast approaching here at Kennedy Catholic. Thursday March 5th through Sunday March 8th, join your Kennedy Catholic players for their production of Mel Brooks' Young Frankenstein.
The Plot
The Kennedy Players are excited to bring to life the story of the infamous Victor Von Frankenstein's grandson, Dr. Frederick Frankenstein. The onset of the narrative finds Frederick, a widely respected medical professor at a world-renowned school of learning, living in New York. When he is summoned to Translyvania Heights to settle his grandfather's estate, Frederick finds that he is unable to deny his genes. The events unfold as Frederick himself unfolds, following his grandfather's footsteps as the mad scientist of his ancestral home.
To see everything this show-stopping production has in store, purchase your tickets here.
The Players
An interview with Dr. Frankenstein, also known as Michael DiGraci, class of 2022, reveals the work that is involved in developing a production like this and why he is excited to share the product of that work with others.
Michael Di Graci, '22
Q. What makes the show, Young Frankenstein, one that people should go see?
A. The fact that everyone involved with the show has spent many long hard days working, and the amount of work put in makes the show that much more brilliant. Our extreme amount of hard work, dedication, and
commitment makes this show worth seeing.
Q. What would you say is the absolute best part of the show?
A. I would say that the absolute best part of the show is how well written it is. Young Frankenstein riddled with many hilarious jokes and the music is amazingly written. Biased or not, I think that the dancing is also just as
fantastic.
Q. How much effort and teamwork goes into producing a big show like this?
A. An extreme amount. The show could not flow without teamwork and I couldn't imagine the show happening without everyone else.
Q. What is challenging about bringing this script to life?
A. This script has many iconic lines stemmed from the movie, and it's hard to recreate the same effect that the original actors had on the line while also putting my own twist on it. I also don't understand a lot of references made in the show, so sometimes it's hard to pretend like I do.
Q. How are you and the character you're portraying, Dr. Frankenstein, similar?
A. I am similar to Dr. Frankenstein because we both can get extremely dedicated to perfecting something that we will spend a countless amount of time working on it. Although our interests differ, our dedication to perfecting things hold a similarity.
Visit our Vimeo page to see Vlogs from cast and crew!
~ Kieran Sullivan, Class of 2023