Catching up with Cardinal Edwin O'Brien '57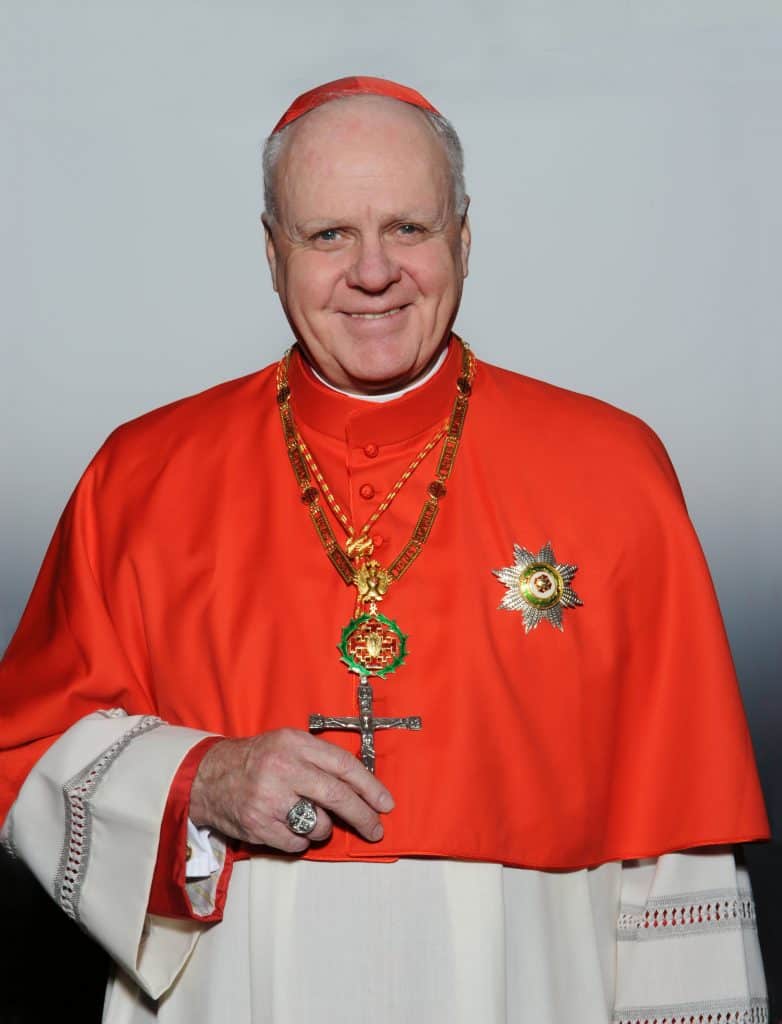 "I don't take that for granted," Cardinal Edwin F. O'Brien told The Gael during a phone interview on Feb. 8, referring to the Catholic education he received growing up, first at Our Lady of Solace in the Bronx, and later at his alma mater, St. Mary's.
The truth is that O'Brien doesn't take much for granted in life, from his upbringing to his recent elevation to the College of Cardinals. Following his father's untimely death and a subsequent move north from the Bronx to Bedford Village during his sophomore year of high school, that humble outlook even included a ride to school in Katonah on some days.
As many Gaels did at that time, O'Brien would sometimes forgo the bus and hitchhike to St. Mary's. On several occasions, his Good Samaritan was none other than the legendary "Voice of the Yankees", Mel Allen. Little did Allen and the others know the precious cargo they carried.
'Insist on Catholic Education'
For O'Brien, his Catholic schooling was educational and social, athletic and spiritual. Priests were held in the highest esteem, and coming to St. Mary's opened up the future Cardinal to a whole new set of experiences. From coeducational classes, unique for their time, to the close rapport developed among classmates and between the Sisters of the Divine Compassion, "they were great," O'Brien said of his St. Mary's years.
O'Brien has a reputation for being accommodating. Fellow St. Mary's graduate and current Board of Trustees Chair Joseph Costello '58 recalls a time when he and his wife Jean were visiting Rome and the then-Archbishop took care to give them a personal audience. Perhaps such a trait was picked up or at least fostered at St. Mary's, where O'Brien recalls being particularly awful at math and "the late Sr. Christopher was very patient with me."
Of course, O'Brien possessed a fair amount of patience himself, having been picked up one day by classmate Rocco Mancini in his 1952 Buick Riviera, driven out beyond the Katonah limits and left to walk back to St. Mary's in time for the bell. Fittingly, the good-natured prankster and his wife, Ann, also a 1957 St. Mary's graduate, were among the first to call O'Brien following the news of his elevation. O'Brien has just always had a way of connecting with people.
But when it comes to the diminishing Christian element and the future of Catholic education, the Cardinal has no such patience, only praise.
"Our Catholic people will insist on Catholic education," O'Brien said emphatically, encouraging parents to be aggressive by participating on local school boards and calling on government leaders to defend their basic right to educate their children in the Catholic faith without being doubly taxed.
"The values our schools bring to the common good are irreplaceable," said O'Brien, after whom the Commons at Kennedy Catholic is named. "I owe so much to that tradition."
'He was always a leader'
Though they had not seen him since their 50th reunion in September of 2007, the Mancinis didn't hesitate to place a congratulatory call to the friend who was the altar boy at their wedding. The longtime couple, who are celebrating 54 years of marriage, recall O'Brien as someone who always made those around him feel important.
"I looked up to Eddie," said the affable Rocco, who couldn't help but add "even though he was shorter than me."
Neither Rocco nor his Anne can point to any specific instance where inklings of O'Brien's rise through the Church were on display. That's because they said it was constant. Be it his two years as class president, heading up the yearbook and student newspaper, playing on or managing one of the sports teams, "he was always in charge of something," Anne remarked.
Rocco recalled a party one Saturday where the boys were eating ice cream and, at the stroke of midnight, O'Brien collected the spoons so as to preserve their fasting for Sunday's Eucharist. Even a rather raucous group in the midst of some swearing would stop and apologize if O'Brien were around. Not that the future Cardinal didn't have his share of fun.
Quite the contrary, the Mancinis said it wasn't surprising to find O'Brien at the forefront of the next practical joke. From water gun fights in the hallways to the time O'Brien returned the favor by taking the Buick and making Mancini hitchhike back to Valley Road, "He instigated a lot of our capers," Rocco said.
Acknowledging that the Cardinal has always been far too modest to discuss such things, the Mancinis did ponder what it would be like if O'Brien traded Rocco's old Riviera for the Popemobile to become first Gael in the Vatican.
"Oh man, that gives me goose bumps," Anne said. "That would be absolutely awesome!"
'This is what I wanted to do.'
"I don't ever recall not wanting to become a priest," O'Brien said, noting the way clergy were revered while he was growing up.
Not that he ever aspired to become a Cardinal, or even an Archbishop, for that matter. For O'Brien, hoping for such advancement is a violation of the call to serve. Rather, as many a humble servant has said in the past, the Cardinal just felt he was in the right place at the right time to receive the Lord's call.
He seems to have been the right man at the right time ever since. From serving as communications director for the Archdiocese of New York and rector at St. Joseph's Seminary in Yonkers, N.Y., to his most recent call to serve as Grand Master of the Knights of the Holy Sepulcher, O'Brien said there is "always a sense of awe and humility" when the Holy Father calls.
In fact, O'Brien said it was his elevation to the Knights of the Holy Sepulcher that shocked him the most, as he was the first Archbishop to become Grand Master without first having been elevated to the College of Cardinals. And while he might not consider future advancement for himself, it is interesting to note that from 1496—when the office of Grand Master was created—up until 1949, the position was held by the Holy See himself.
"I just always felt this is what I wanted to do," said of his call to serve the Lord.
'Person to Person'
Perhaps it is apropos that Mel Allen appeared on Murrow's "Person-to-Person" the year O'Brien earned his Blue and White diploma. By all accounts, no matter how big the responsibility or the room, that is how the Cardinal consistently comes across—person to person.
St. Mary's classmates John Hewes, Bob Kurutz and Frank McGuane made the journey to Rome to see their fellow Gael bestowed with the red biretta and ring signifying his elevation to the College of Cardinals. And despite being the man of the hour, O'Brien continued his way of making those around him feel special.
"It was a truly wonderful experience to attend the Consistory Pilgrimage in Rome," Hewes said. "Pat and I were very blessed for the opportunity."
Just as he describes those rides to St. Mary's so many years ago, O'Brien doesn't take his new Holy Orders for granted. Rather, he believes he was just in the right place at the right time when His Holiness called.
Indeed, he has made a life and influenced so many others by doing just that. Perhaps he's simply paying the rides forward. And yet, as one of his former lifts might say upon hearing O'Brien's story…
"How about that!"