The annual College Fair was held on October 6th in the gymnasium. Representatives from universities and colleges rom all across the United States were in attendance to introduce our students to what their schools had to offer. Each grade had an opportunity to explore the 45 college booths and collect information from the schools. Each school's representative gave students information and answers to any questions they had.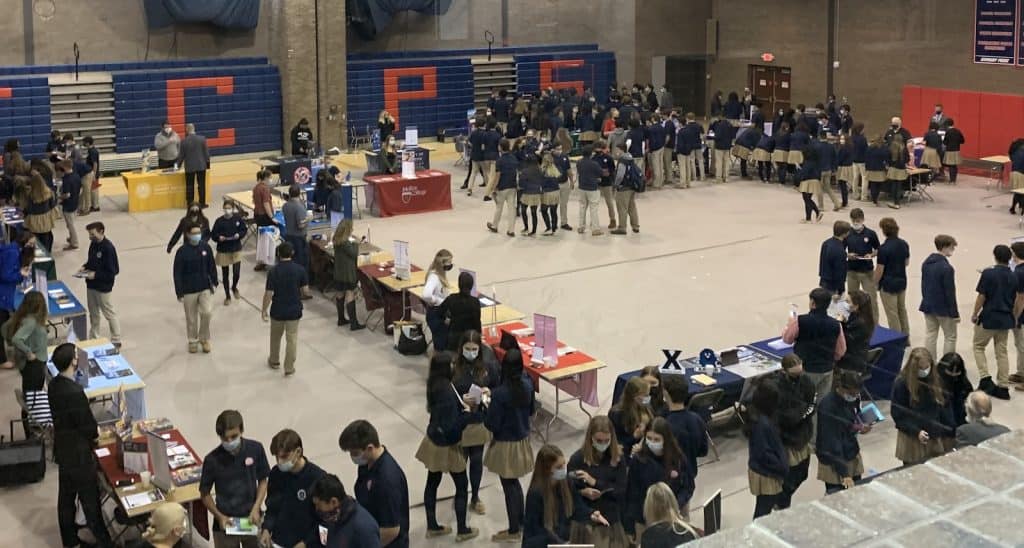 The college fair has given a different perspective for all grade levels. A freshman may use the fair to learn about all the different options for schools and majors they might to pursue, while a senior may use the fair to ask specific questions about Early Action deadlines or to help narrow down their soon to be made college decisions. I asked a student from each grade about why they found the college fair useful and encouraged honesty by maintaining their anonymity.
Freshman: "It was helpful to look at all the different types of majors each school had."
Sophomore: "The Fair was useful because I was able to see what schools offered with their majors and provide a new understanding of what type of College I might want to go to."
Junior: "Going to visit the colleges helped introduce me to many great schools near and far that I had never heard of."
Senior: "Talking to the rep from my top school helped me to gain more information about the school, and made the process easier for applying and early action. It also helped me narrow down some of my college decisions."
All in all, the college fair provides an opportunity for students to start looking into their futures. Whether it be in their career or in their future education, we are fortunate as students of Kennedy Catholic to be able to participate in these events.
Colleges in Attendance:
University of Scranton, Molloy College, Iona College, The University of Alabama, University of Louisville, Fairleigh Dickinson University, Manhattan College, Kean University, Ramapo College of New Jersey, Rutgers University, University of New Haven, Pace University, Pennsylvania State University, Canisius College, The University of Tampa, Lynn University, Le Moyne College, Western Connecticut State University, Western New England University, New York Film Academy, Monmouth University, Castleton University, University of Connecticut, High Point University, Bentley University, University of Maine, State University of New York at New Paltz, College of Mount Saint Vincent, St. Bonaventure University, Dominican College of Blauvelt, Sacred Heart University, Marist College, Lesley University, Merrimack College, Ave Maria University, Manhattanville College, Lees-McRae College, Roger Williams University, University of Saint Joseph, Duquesne University, Fairleigh Dickinson University, Saint Joseph's College of Maine, DePaul University, Mercy College, United States Marines.