SOMERS, NY – Following an extremely successful 2018 season and a trip to CHSAA State Tournament, the Kennedy Catholic Varsity Volleyball squad accomplished an even more impressive season. Trusting in the process of hard work with determination and grit, the Gaels maintained their focus and successes from their past season to achieve more.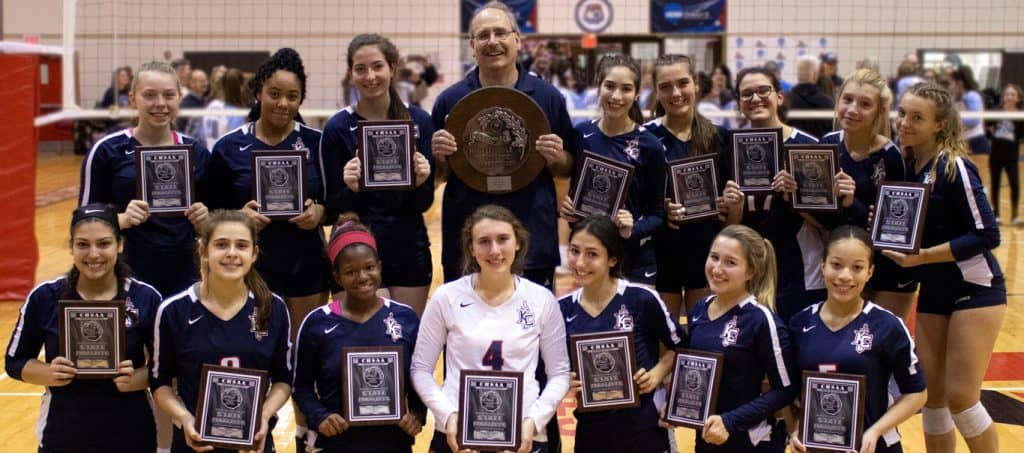 The Journey
All season long the goal was to reach and win the State Championship. Excellent team chemistry, senior leadership, and valuable experience prevailed throughout the 2019 season. Senior Captains Joanna Longest, Julia Costa, and Madison Cartisano maintained their leadership roles all season and ensured that their team was always ready to give 100% effort and refuse to back down from any adversity. All of their team characteristics added together to create a "relentless and driven team," according to Coach Santora, who strives to ensure that his team remains humble from game to game and that they are constantly meeting their expectations.
Coach Santora believed that the main strength of the team was their defense, which was led by Madison Cartisano and Ginny Capellupo. Offensively, Sophomore Anna Cascapera dominated opponents with her deadly kills, while Juniors Madison Troetti and Grace Tompkins controlled the outsides with their hits.
The Prize
The Gaels made it all the way to the CHSAA AA State Championship after taking the 2019 Bronx/Westchester League Championship, CHSAA Division I AA/A Championship, and the Class AA Intersectional City Championship along the way. Kennedy defeated the Notre Dame School and Preston High School to win the CHSAA Division I AA/A title and beat the Mary Louis Academy to win the Intersectional City Championship.
Senior Julia Costa was nominated as the NYCHSAA 2019 JoAnna Baier Player of the Year this season, which is truly a prestigious honor. Her teammates, Madison Cartisano, Madison Troetti, Grace Tompkins, and Anna Cascapera, were selected as Division I and All-League players.
The Gaels made school history this past season by never losing a single set in regular play, which is a total of 60 sets won to 0 sets lost. This streak ended in the playoffs after a whopping total of 73 consecutive sets won without a loss. The 2019 campaign was the 2nd straight season with an undefeated regular season record of 20 wins to 0 losses.
Lastly, according to league representatives, the 2019 Kennedy Catholic Varsity Volleyball team wasn't only the first ever Kennedy team to reach the State Finals, but they were also the only New York Archdiocese team to ever make the State Finals. The strength of the 2019 team can only be matched by future endeavors of the Kennedy Catholic Volleyball Program.
– Brendan Sullivan '21, William Howley '21
Gael Winds Sports Editor, Gael Winds Sports Writer