Traditions at Home and at School
It's the Christmas Season! Yes, it's still 2020, and by definition, that means circumstances will be strange and unconventional. However, the global pandemic has not succeeded in crushing everyone's Christmas spirit.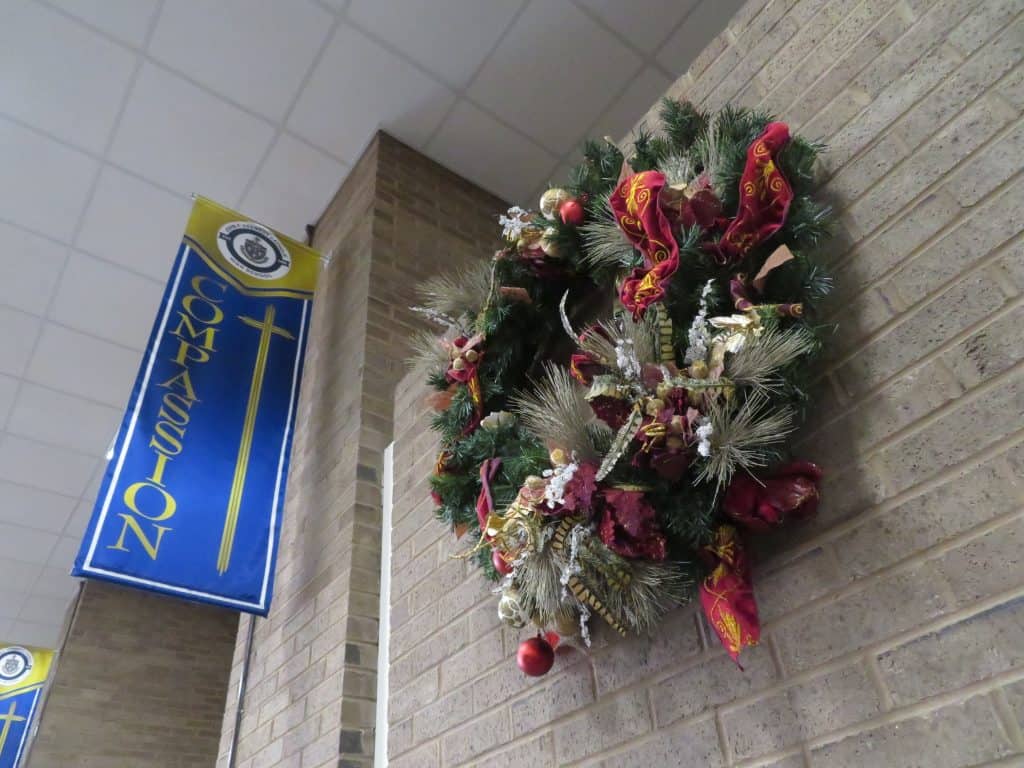 Mrs. Normile, the Christmas elf every year, helped bring cheer to the halls of Kennedy, decorating with wreathes, lights, poinsettias, and more!
Red, yellow, blue, green, orange, purple, and white lights decorate the exteriors of houses across America. Families have scoured Christmas tree farms to find the perfect evergreen that would be the dazzling centerpiece of their living rooms. Amazon has had its hands full with enthusiastic shoppers and next day shipping mania.
You know it's Christmastime when cozy fireplaces start crackling and Mariah Carey's All I Want For Christmas is You blares from every radio station. So let's dive into the holiday spirit and take a closer look at the different ways to celebrate!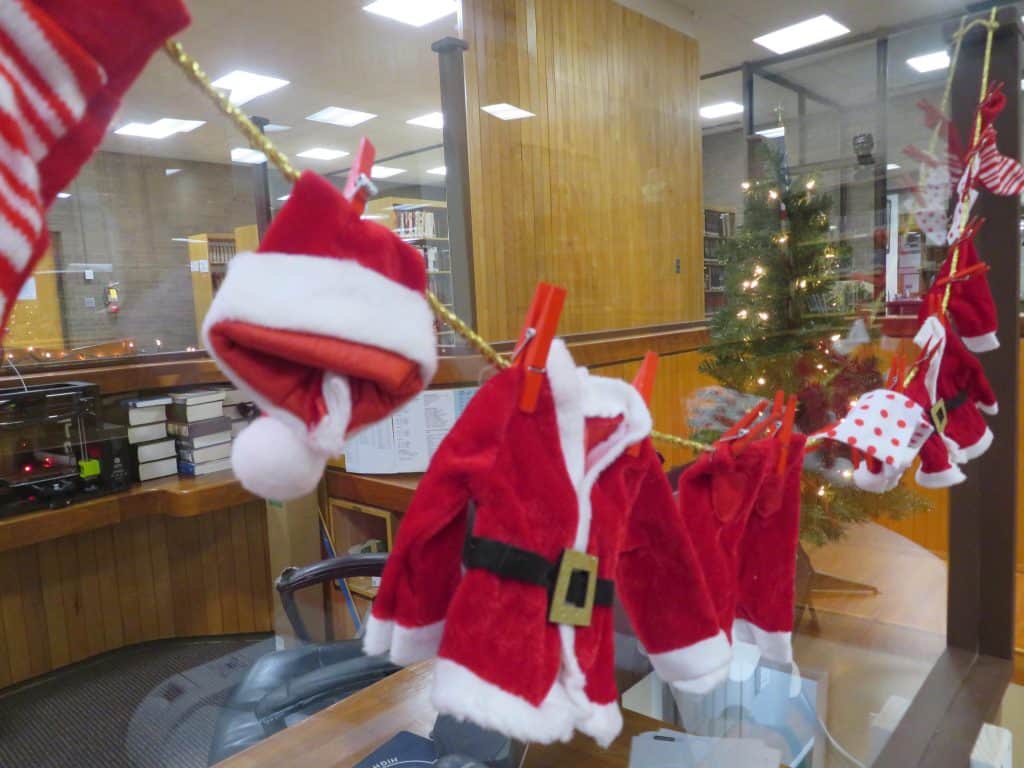 The library received special treatment – in addition to a miniature tree and lights, this Santa banner brings flair.
The Christmas Poll
After a few weeks of observing my surroundings and asking people their festive preferences, I've gathered data about some of the most debated holiday related questions. String lights are a must in holiday decor, but are white lights or multicolored lights better? White lights appear to be the favorite among pollers, the idea being that they award the tree and house with a magical glow.
In the debate of real trees versus artificial trees, it is much more divided. While real trees provide a certain authenticity, artificial tree enthusiasts argue that their trees are significantly less messy. Plus, they argue, they're reusable.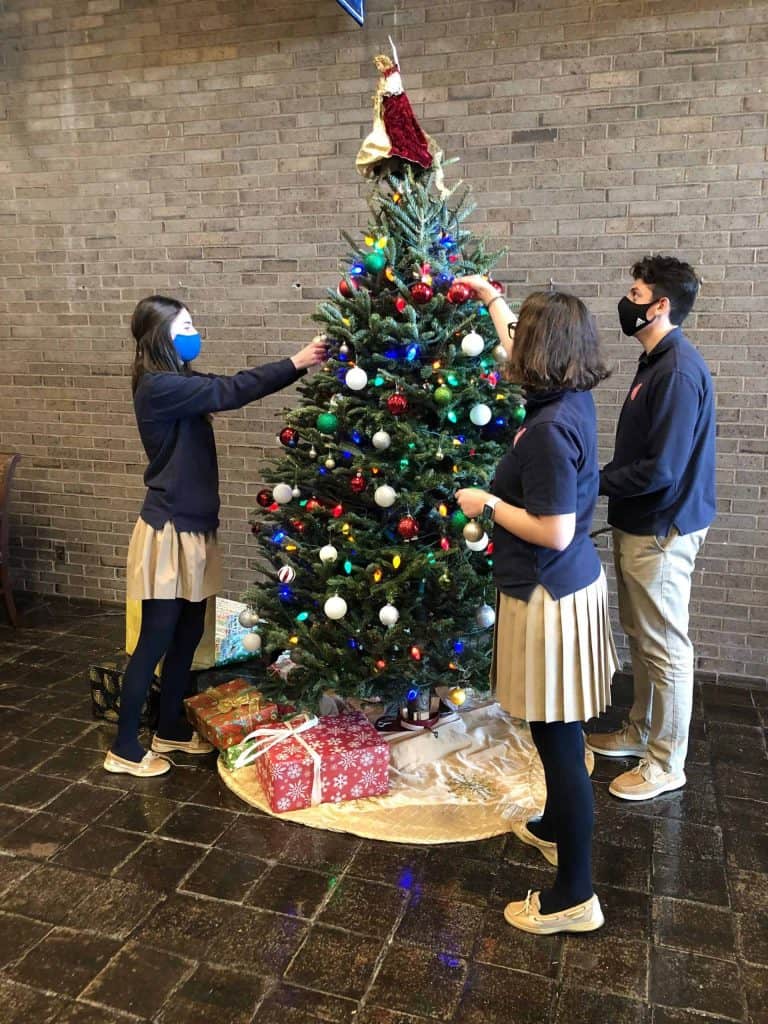 Mrs. Normile's elves helped decorate the Kennedy Tree in the Commons.
Regardless of what kind of tree people have, some are far more anxious to put it up than others. There were two extremes among pollers: those who are practically propping up the tree in the middle of Thanksgiving dinner and those who see the calendar reach the twenty third of December and frantically set it up. However, the general consensus falls somewhere in the middle of December.
Socially Distant Solidarity
No matter what your festive traditions are, Christmas is a time to come together with loved ones. It may be difficult this year with all the Covid-19 guidelines and regulations, but platforms like Zoom and FaceTime make it a lot easier. Connecting over a screen isn't the same as being face to face, but it's important to keep up the holiday cheer!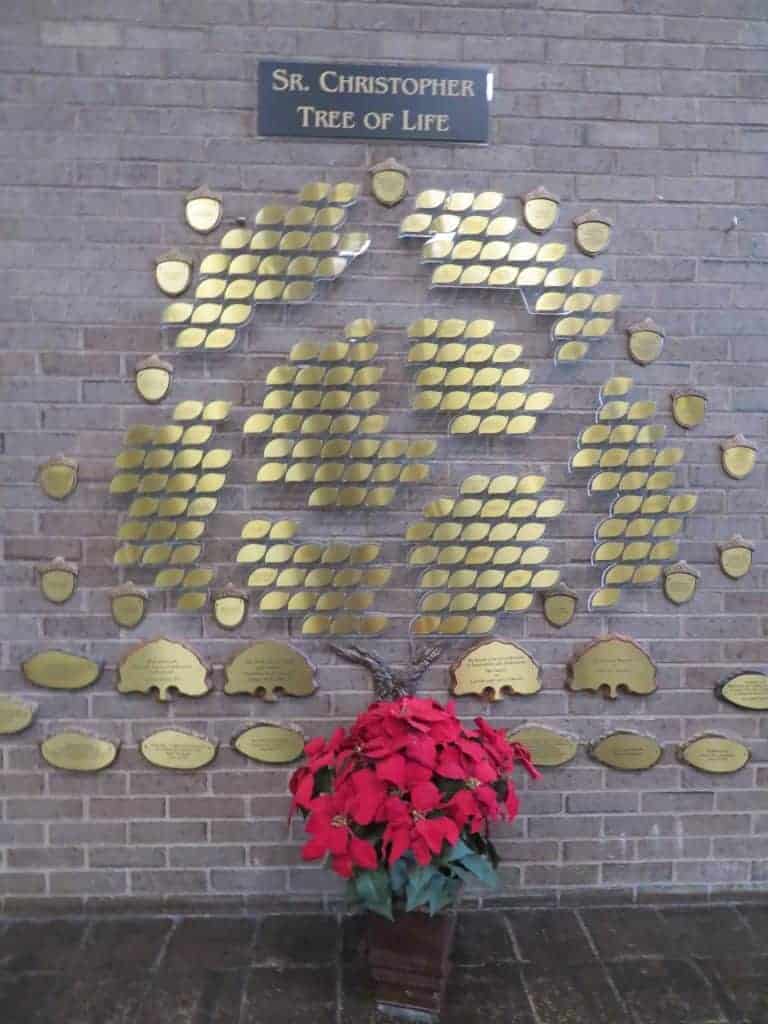 The Sister Christopher Tree of Life in the Commons is always a centerpiece celebrating the long history of the Kennedy community.
We're all so lucky to have family to celebrate with, and we should never lose sight of the true message of Christmas–the birth of the promised Savior.