Nick Tinger, KCPS Class of 2018 and current Berklee College of Music student, released his album entitled "Imaginings II" in 2020.
Find Imaginings II by Nick Tinger on Apple Music
Nick explains his work best in his own reflections:
"I'm not particularly sure what inspired the making of this album. I love the thrill of making music and releasing it in any shape or form whether it's "bad" or "good". This album unfortunately only contains one composition of mine, but the rest are – more or less – familiar, pre-existing tunes. Future albums will hopefully be saturated with my own compositions.
This album is the combination of many stories coming together at weird times throughout the past 3 years. It is one big heap of compiled emotions that I am trying to project to my desired audience, whomever that may be. The technical facilities of my piano playing that I demonstrate in this album are mainly musical components I have collected over the 16 years I have been playing piano.
I recorded, mixed, and mastered the entire album. My brother, Chris, made the album cover.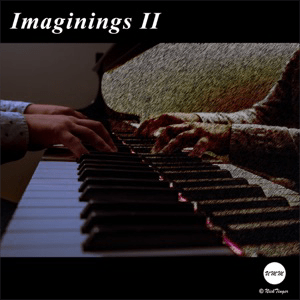 Nobody inspired me to release this album. Nobody told me to record my music. It was my sole doing and something that I am very proud of. Releasing music is a very hard thing to do and, might I say, courageous. Releasing music is also very easy to do, especially today with the technology we all possess as individuals. That's why we have such an abundant supply of it.
I firmly believe that Music reflects the human condition. The world and people, in general, are connected deeply through Music. This abstract idea is something I call The Universal Musical Mind (UMM). It is a philosophy I am still developing and trying to understand. It is a philosophy that I live by; a philosophy that gives me musical etiquette, and through this etiquette, I learned how to treat people more appropriately. I treat people how I play my music, with the utmost care and attention. This philosophy is something I acquired through the brilliant jazz pianist, Bill Evans."
Bill Evans about The Universal Musical Mind:
"I believe that all people are in possession of what might be called a universal musical mind. Any true music speaks with this universal mind to the universal mind in all people. The understanding that results will vary insofar as people have or have not been conditioned to the various styles of music in which the universal mind speaks. Consequently, often some effort and exposure are necessary in order to understand some of the music coming from a different period or a different culture than that to which the listener has been conditioned. I do not agree that the layman's opinion is less of a valid judgement of music than that of the professional musician. In fact, I would often rely more on the judgement of a sensitive layman than that of a professional since the professional, because of his constant involvement with the mechanics of music, must fight to preserve the naivety that the layman already possesses."