We asked these Stand Out seniors: "What was your fondest memory at KCPS and what advice do you have for incoming freshmen?"
Ethan Harianto of Carmel is off to Stanford University to study Computer Science. A member of the Varsity football team and National Honor Society, Ethan enjoyed developing relationships with his classmates and teachers whom he will miss dearly. There are two events that tie for his fondest KCPS memory: President's Dinner, when his name and college were announced in the presence of friends, family, and faculty and his senior Homecoming football game, when he ran onto the turf with his team and experienced a palpable sense of brotherhood he won't soon forget.
His advice to incoming freshmen is "make friends, it doesn't matter who" and to balance school and fun. He hopes his fellow Gaels never have to live with the regret of missing out on important life experiences.
Caroline Selinger of Cortlandt Manor will continue her academic and athletic career at Swarthmore College, where she will major in Political Science, minor in Communications & Media, and play Division III basketball for the Garnets. A member of the National Honor Society and captain of the Varsity Basketball team, Caroline appreciated the opportunity to take rigorous AP courses and utilize her teachers as essential resources for success. Her fondest memory was her senior Powderpuff Game, a tradition during Homecoming week in which ladies from the senior class face off against ladies from the junior class in a two hand touch football match.
Basketball plays a major role in Caroline's life, and so too did the mentorship she experiences from her Varsity Basketball Coach, Coach Len Yearwood. Her advice to incoming freshmen is "always be open in trying new things but also to stay focused on yourself and your goals!"
Peter Desimini of Tarrytown earned the honor of Salutatorian and is headed to the University of South Carolina to study Mechanical Engineering. A member of the Varsity soccer team and National Honor Society, Peter will miss his 8th period free when he spent time with friends and made memories that will last a lifetime.
His Salutatorian address at the 2022 Commencement ceremony can help incoming freshmen understand how their experience as Gaels will help prepare them for the future. Peter said:
"Time flies, unfortunately. But the good news is we are the pilots. Our time here at Kennedy has paved the runway so that our takeoff into college is as smooth as possible. And once we lift off, we will have much more control over how we use our time and where it will take us. We will be on our own, exploring unknown territory, reaching new heights. The ride will not be smooth the whole way through; you are bound to encounter turbulence at times. But your time at Kennedy has taught you to have faith, courage, and the determination to push through the rough patches.
You might get lost in some stormy weather and fall from the right path, unsure of where to go or what to do next. But you can always seek guidance from your close friends, your family, your parents who are eagerly waiting in the control towers just a phone call away."
Valedictorian Megan Flaherty of Peekskill will study Chemical Engineering at Rensselaer Polytechnic Institute. A member of National Honor Society and captain of the Varsity Swim team, Megan cherishes the memory of her Sophomore Homeroom Olympics when she and her fellow classmates managed to defeat the seniors in the contentious and always competitive tug of war competition.
Megan will be dearly missed, for her positive attitude and ready willingness to help a friend in need. Her advice to incoming freshmen is to encourage them to advocate for themselves: "Don't be afraid to talk to their teachers; it makes the class easier and the rest of high school better when you are able to ask for help." Megan's little brother Sean, an incoming 8th grader at Kennedy Catholic Prep's middle school St. Mary's Academy, has big shoes to fill indeed! We are so excited to welcome another Flaherty into the Kennedy family.
A big thank you to these four wonderful graduates on behalf of administration, faculty, and staff, for all they contributed as students and their willingness to contribute as alumni. We appreciate you and look forward to your accomplishments!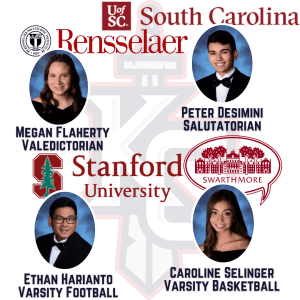 If YOU would like to be featured on our social media channels and our website, please remember to submit the 2022 Senior Salute Google Form.