by Maia Forssman, Class of 2023
It's that time of year again at Kennedy: temperatures are dropping, quarter two is starting, and Christmas decorations are about to be put up. But most importantly, production for the annual school musical has just started! This year our Kennedy players are performing Something Rotten, a musical that follows the ordeals of brothers Nick and Nigel Bottom as they attempt to write the world's first musical during the Renaissance era. I spoke to some of the amazing student actors about their history in the drama department at Kennedy, and the current stage of production of the musical.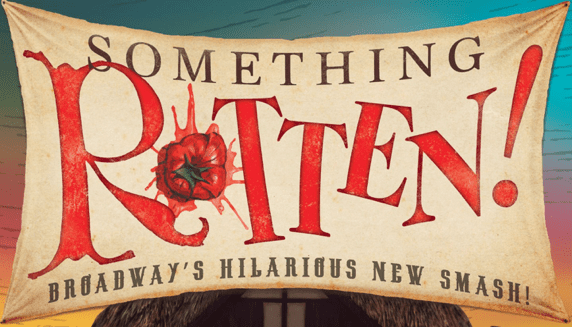 Hunter Castro '23, who has participated in four plays during his three years at Kennedy Catholic, gave me a synopsis of the play: "In the show there's these two brothers, the Bottom brothers. They're struggling to come up with an idea for this groundbreaking theatrical performance, and so there's a lot of trials and tribulations with everything. There's a lot of fighting back and forth between them… At the end they do finally come up with an idea for a show. It's a musical." He went on to tell me that the Bottom brothers have to compete with the genius and popularity of Shakespeare, who is actually one of the main characters in the play. Their idea of having actors sing and dance on stage is so evolutionary because of their radical difference from the non-musical plays being produced by the leading playwright of the time period. "It's really, really funny, there's a lot of jokes throughout the whole entire thing that have to do with Shakespeare's plays. If you're a fan of Shakespeare you're going to find this show really, really funny."
I also talked to Jessica McGovern '23, a member of the ensemble, which she described as "the main character's support system." She told me a bit about the scale of the production, "It's a huge show. Ensemble has sixteen vocal cues which is quite a lot." I asked her about the current stage of production and how much progress has been made, to which she told me, "We are working on the first act and, honestly, I think we're almost done! We still have to work-in some of the choreography for some of the bigger numbers. And there are some big numbers. Like I'm talking five plus minutes. And it's going to look really, really cool when it's all finished. I'm really excited about it."
I asked the Kennedy performers about the current energy and environment this year compared to last year, as COVID restrictions significantly affected last year's production of Legally Blonde. Joseph Beisswenger '24, who plays Nigel Bottom, said, "I have a feeling that the environment this year is going to be a lot more productive than it probably was last year because there are going to be fewer restriction now." Beisswenger reported that he didn't participate in the play last year because it took place while most adults were still receiving their vaccines, but said he is "excited to do it again."
McGovern further elaborated on the COVID situation and how it affects the play, explaining that they "don't know what the final show is going to look like in terms of COVID restrictions. But as of now we're all wearing masks during rehearsals, we're social distancing when we're eating, we're being very careful to make sure we don't have any people quarantine like we did unfortunately last year. We're going to make sure that doesn't happen again this year."
Castro also spoke about the enthusiasm and excitement for this year's show: "There definitely is a heightened energy. I feel like we're really, really excited this year. It's a really, really fun show to not only prepare for and not only to act for but also to watch. And the whole cast, we're all really excited to be able to finally be on the stage again. And this year, we still have restrictions, but it's going to be a big production again so we're all excited for being in a bunch of scenes and doing the most we can to make the show look really, really good."
Kennedy has a history of putting on some amazing musicals, but I have a feeling that this will be the best one yet. Come support our incredibly talented stage troop by seeing Something Rotten in early March!