On April 14, 2022 students from the Italian Club departed from Kennedy Catholic Prep to
Arthur Avenue in the Bronx. Guided by Mrs. Tedesco a native of Italy and Mrs. Normile a native of the Bronx, the accompanying students had a unique and first-hand experience of Italian culture. The trip began with the arrival at Our Lady of Mount Carmel Church where the group went in for a brief prayer. The Church was beautiful, with marble encompassing the whole altar, and marvelous statues.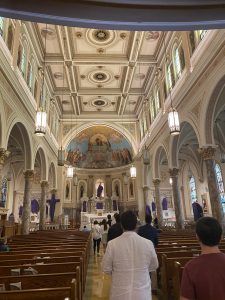 Almost everyone can agree that Italian food is amazing, it's just an undeniable fact. The first stop was to Egidio's Bakery for some delightful pastries and coffee. There we met a nice Italian lady who told us all about Arthur Avenue and recommended we go see the marketplace, which had various foods including: pizza, vegetables, fruits, coffee, and a deli with a variety of meats. The pizza I ate was quite delicious, and much tastier than the ones locally. After chatting with Jeffrey Torrieri and Ms. Normile, they seemed to really enjoy their sandwich made with mozzarella, prosciutto, and balsamic vinaigrette. It looked as good as it tasted.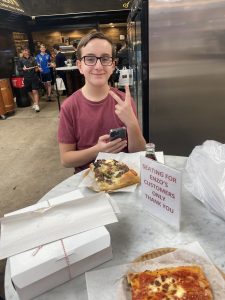 Following an exquisite lunch, we continued our trip to explore more of the culture of Arthur Avenue. This led us to Addeo And Sons and Terranova Bakery, where many of the students were excited to buy loaves of the fresh, warm bread. Terranova Bakery allowed us to go in the back, and get a firsthand look at the process of making bread. The smell was amazing, and it truly is an art to craft such perfect bread. A fun fact I learned was that the bread made on Arthur Avenue is shipped to local stores like Decicco's. Robert Grande was a major fan of the bread, even going to comment "this bread is the best I've ever tasted."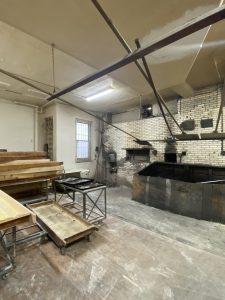 After a long day in the sun, it was best to go find some gelato. Ms. Normile treated us to De Lillo's, and they did not disappoint. Personally, I got a scoop of chocolate and a scoop of vanilla, but there were a variety of other choices. It was the perfect way to end such a fun and educational trip. I would like to extend a huge thanks to Mrs. Tedesco and Ms. Normile for accompanying us, and also to the school for promoting this culturally enriching experience!
Resta sintonizzato per saperne di più!