Despite the crisp spring air in Somers last Friday night, Kenny Chesney's "The Boys of Fall" paraded throughout Kennedy Catholic Prep's 63- acre campus. The song was a fitting soundtrack and held a particular special meaning this year. It was Friday Night lights in March but for all the players, cheerleaders, coaches, students and parents in attendance, it felt like a Friday night in fall, the kind of Friday night that we and all schools and football programs around Westchester remember before the events of 2020 changed everything.
As exciting a win it was for the Gaels over the Bayhawks of St. Dominic's in the season's first CHSAA league match-up, the final score seemed secondary to the home team. Yorktown native and Kennedy Catholic's senior quarterback Clayton Proctor said it best, "We're the only game happening tonight in Westchester and it means the world to the team, to the school, our parents. I'm really glad everyone gets to step on the field now. We're playing football. That's what really matters."
In the 34-0 victory, Proctor completed 10 passes for a 182 yards and three scores. One of those scores and a big turning point in the game was a 45-yard strike to senior wideout James Brown. Brown from Carmel tallied four catches for 98 yards and two touchdowns. Freshman running back Chris Kalle had nine carries for 120 yards while Mahopac resident and senior Louis Cardillo literally kicked off this special night of football in March with a 71-yard sprint to the endzone for Kennedy's first score of the game. It was a big win for this Kennedy team, winners of the 2019 CHSAA Class A League Championship but a bigger "victory" for us all by just being able to be on the field and feel a sense of normalcy again.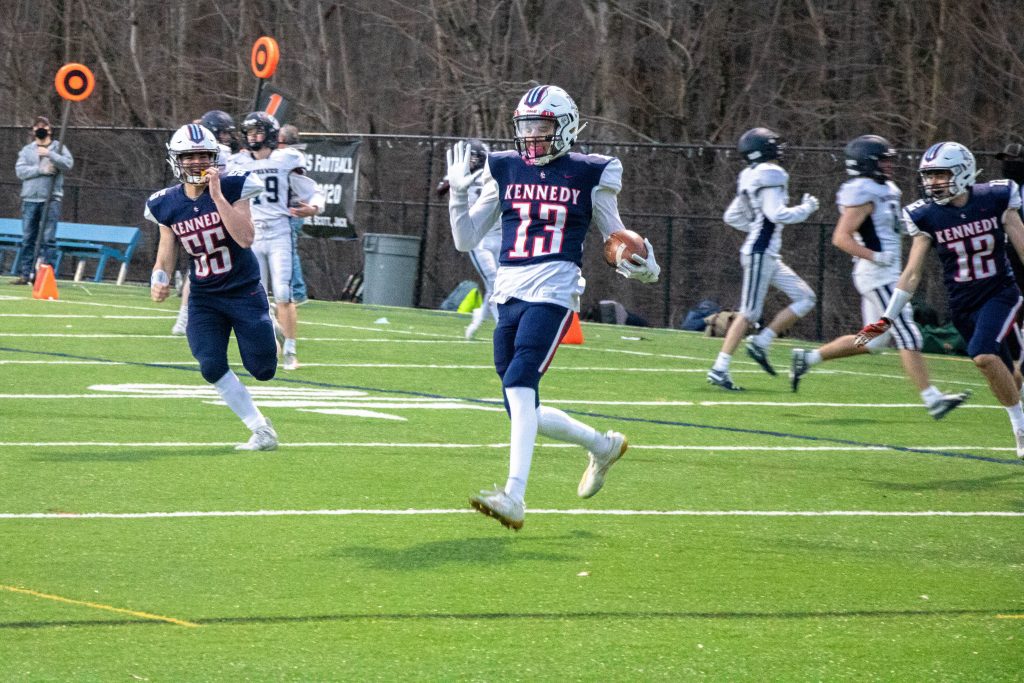 Read more about the game at LoHud, listen to Clayton Proctor's News12 interview, and be sure to follow @KennedyGaels and @Coach_Tassone on Twitter for more information and updates about the program.