By Gianni Bove, Class of 2023
The Senior and Junior Lady-Gaels faced off against each other in the annual Powderpuff Football game Thursday, October 7th. In two twelve minute halves filled with grit from both sides, the Seniors, led by Head Coach Evan Bernal '22, came out victorious, with a final score of 14-7.
The story of tonight could be summed up in one word: defense. Particularly the victorious senior defense, run by Nick Mittag '22. I spoke to Nick about his defensive game plan in the hours leading up to the game, "What offensive play call are you most worried about from the Juniors tonight?"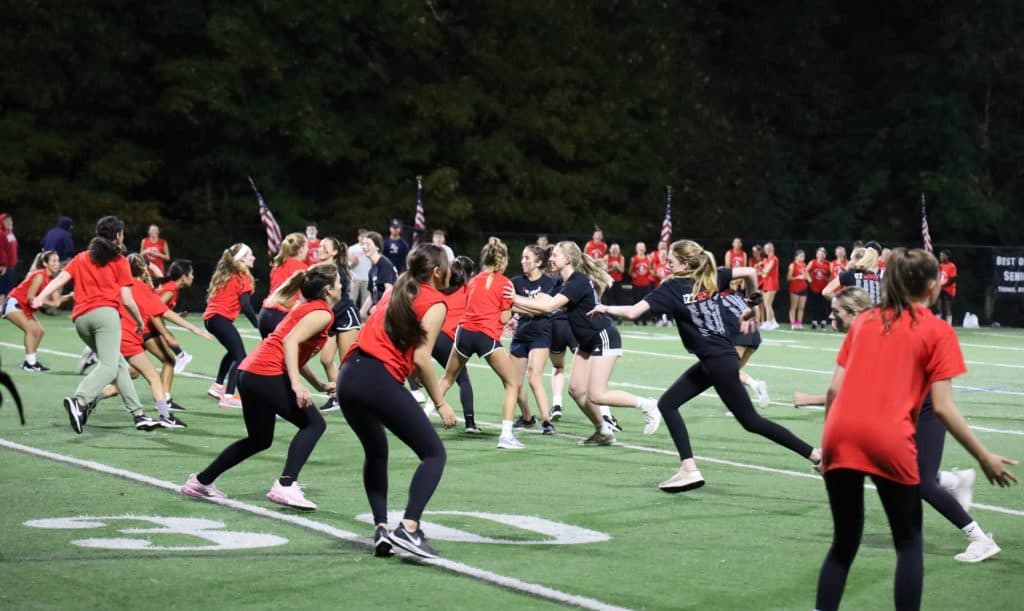 "Well obviously I'm most worried about 50 mesh." said the Senior defensive coordinator, referring to a passing play in which two girls on opposite sides of the field cross each other, hoping to exploit the defensive coverage and get girls open in space. Sure enough, 50 mesh was the first play called by Junior offensive coordinator Gianni Bove '23, and sure enough, it resulted in a touchdown, with Kaitlyn Roemmelt '23 running the length of the field down the sideline. Unfortunately, the story ends there for the Junior offense. They were shutout for the rest of the game.
"I wanna give a big shoutout to my defensive line," said Coach Mittag after the game, referring to the dominating unit led by Claire Traynor '22 who transitioned from the basketball court to the gridiron in no time at all. Mittag concluded in saying, "they (the D-Line) balled out today, our whole team balled out today. I'm very happy with our performance."
The tone was different from Junior Head Coach Nick Duryea '23. While his defense, run by Anthony Castaldi '23, showed promise, the Junior girls offense squandered nearly every opportunity afforded to them. You can't win a football game on one side of the ball only. That was the main message from the coaching staff Thursday, and hopefully, it will be a message that sticks with the team going into next year.
"Next year, that's our focus." Said the Junior coaches. "We'll be back next year."