On November 10, 2019, Kennedy Catholic Athletics history was made when Kennedy Football took the 2019 NYCHSFL Class A Championship 39-33 in overtime. This competitive back and forth contest between the Gaels and the Cardinal Spellman Pilots was the kind of game that only happens in movies. With 1 second left in regulation play, the Gaels tied the game with a field goal. Ultimately, unwavering confidence, unyielding teamwork, and a 12 yard touchdown run in overtime earned the Gaels the title.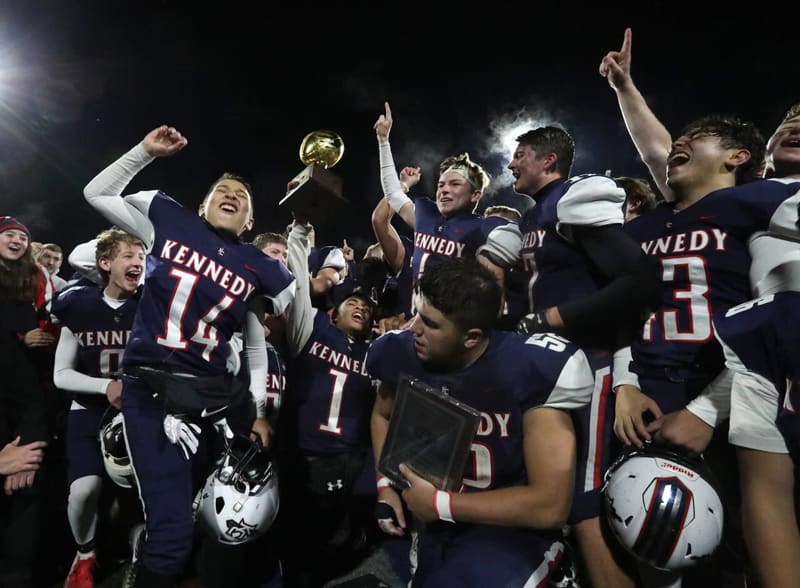 Although words struggle to describe the pride and joy of achieving such success, Senior Captains Aidan Bernal and Ayden Sanchez (pictured below) issued a statement regarding their final season as Gaels:
This year was an incredible season for Kennedy Catholic football. Although we were a young team, with only 6 seniors, we won the City Championship. We are very proud of our teammates and so happy to be a part of history.
Leaders Lead
Captains Aidan and Ayden were great leaders throughout their four years. Coach Tassone believes that they both "showed what it means to be a Gael. Their hard work, perseverance, and dedication to their teammates showed up in the championship game. From Sanchez's defenses stops in overtime to Bernal's leadership on the offensive line – both captains were major part of our success. The program will miss them but we are very grateful for their four years and legacy."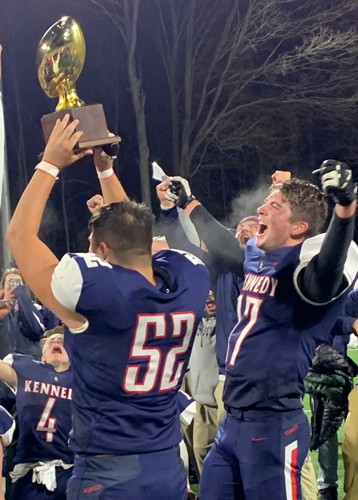 Communion Breakfast Awards
Several Gaels were honored at the Catholic High School Football League Communion Breakfast Awards on Sunday, December 8th 2019 at Kellenberg Memorial High School. Members of the NYCHSFL gather annually at this event to reflect upon and celebrate the "achievement, glory, and blessings of their biggest, brightest, and most treasured competitors." A summary of the entire awards ceremony can be found on the NYCHSFL website in addition to the following information about our Gaels' achievements.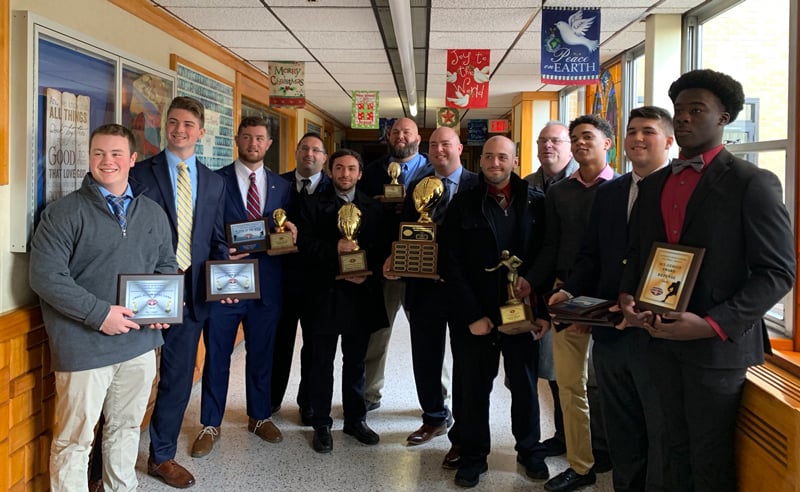 Special Teams Player of the Year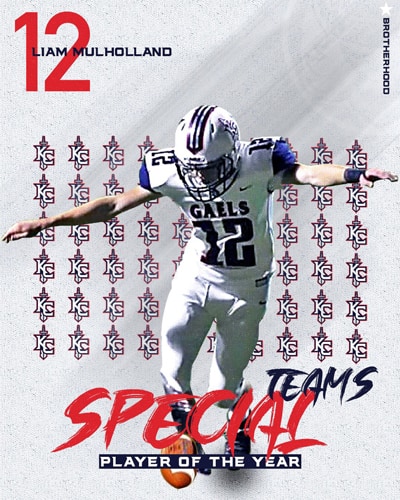 That field goal with 1 second left that tied the game? That's dual-varsity athlete Liam Mulholland, a member of the class of 2021 and the 2019 Special Teams Player of the Year for Class "A" for the NYCHSFL. The second Gael in a row to be honored for his ability to perform under great pressure, Mulholland connected 19 out of 20 point after tries and went 4-for-5 on field goal attempts (long of 39). Mulholland amassed 31 points this season – three times the number of any other place-kicker in the "A" division this season. 
Achieving one of the signature plays of the 2019 season, he secured a 27-yard field goal with one second left of regulation play that sent the single-A title game into overtime. Remarkably, this paramount play of the football season came in tandem with an assist on the soccer pitch that resulted in another Gael City title. (See "Boys Soccer Takes Second City Title in a Row" for more information regarding his soccer success.)
For Mulholland, athletic success is all about finding the right balance between confidence and pressure. With his tenacity, skill, and versatility, Mulholland's incoming senior year looms with possibilities for Kennedy athletics.
Mulholland received an honorable mention in LoHud's 2019 Westchester/Putnam All Stars, along with another standout member of the class of 2021, Clayton Proctor.
Offensive Player of the Year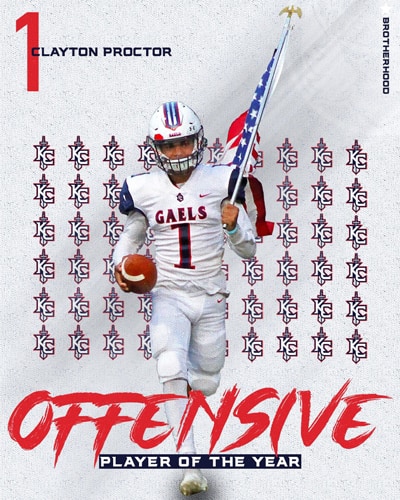 That 12 yard touchdown run in overtime? That's Clayton Proctor, who took home the Joseph Riverso Memorial Award as the Outstanding Offensive Player of the Year for Class "A". Proctor held the distinction of topping the "A" leaderboard in both passing and rushing yardage in the 2019 season.
Proctor connected on 69 of 153 attempts in the air, tossed for 910 yards, and called his own number on 138 occasions for a total of 940 yards. His 18 touchdowns in whole (11 rushing, 7 in the air) contributed not only to his individual successes, but the immense success enjoyed by the Gaels this year. Given these achievements, there is no telling what Proctor's efficacy and potency has in store for his senior year with the Gaels next season.
Proctor's final play in the 2019 Class "A" City Championship was a contender for LoHud's "Play of the Week" in Week 10 of football for the Lower Hudson Valley.
In LoHud's coverage of the game, Proctor was quoted remarking that the victory "means everything to everyone in the school… It means so much."
Golden Eleven Award
Chris LoRusso, class of 2020, was awarded the Monsignor Peter's Memorial Golden Eleven Award. Captain Aidan Bernal, '20, and Ikenna Onanaji, '21, were named defensive all league.
While we say goodbye to those senior members of the 2019 Championship team and thank them for their dedication, contributions, and leadership on and off the field, the Gaels look with anticipation toward the successes inevitable in their future.